Confession time.

I have an addiction to journals. Sometimes I have to stand in the store and command my hand to put a new journal back on the shelf because I already have too many and I don't need another one, thankyouverymuch! Oh, the pretty covers and empty pages just begging to be filled ... So tempting, and then I make my feet walk past the aisle completely. True story.

I have a journal for prayer/intercession/writing ideas, a journal for my small group, a journal for my gratitude as I count blessings and gifts, and a very special journal I use on Tuesdays when I pray. (That's four current journals, if you weren't counting) A precious friend gave me this last one at the beginning of this year.

It's a hand-made purple pocket journal made by an Indian woman from parchment and thread. I've filled it with prayers for victims and survivors of human trafficking, for that's what the maker of the journal was. And she was even more than that - a thriver, because God rescued her from her hell-on-earth life of slavery. I was a sender for this missionary-friend, and she was the go-er. She brought me back this hand-made journal with a prayer for rescue. Because we know the Rescuer, and when we can't fight with our hands and we have to come home from the field and we don't know what to do next, we pray.

And we don't have to know what to do, because intercession is always the right thing to do.
"I urge you, first of all, to pray for all people. Ask God to help them; intercede on their behalf, and give thanks for them." -

1 Timothy 2:1

(NLT)
One specific opportunity is called Prayer Bowl 2014. TraffickJ.A.M. International has initiated an intercession movement in order to fight back at the yearly event in our nation where more human trafficking takes place than at any other location/event: the Superbowl. Shocked? I was too, but then again, it makes sense. Parties, alcohol (beer ad, anyone), sports, drugs, and illicit sex have long been grouped for evil, but we CAN do something about it. We can partner with the Lord in His work to redeem this time for His glory. Please visit the above links to find out how you can be one of the 5,000 intercessors unified to stop trafficking at the Superbowl in 2014.
And how will we pray?
What do we ask the Lord to do for victims, for survivors, for traffickers, for sex-buyers, for investigators, for safe-house volunteers, for organization leaders, and for slaves? I'm so thankful the answer is found in the Word. Praying Scripture, we never go wrong. Asking Him for what He has promised is not only enough - it's more than enough.
When we ask for great miracles pre-promised, and He comes through with redemption like only He can, lives are saved, souls are secured, and glory goes to Christ Jesus. It is "immeasurably more" (

Ephesians 3:20

).
Maybe this is you too, my Dear Reader. Maybe you're at a loss for what to do about millions of people enslaved around our world and you want to fight, but you don't know where to start. Change always begins with a prayer - your own or that of someone else. Sometimes that Someone is the Great Intercessor Himself who sits at the hand of the Father and pleads for us night and day. And sometimes that someone is the one in the mirror. If you're ready to really pray (as a new friend called it, getting loud and rowdy about it), God is always ready to listen. Here are a few fire-starters:
For those enslaved:
Lord, You are always close to these broken-hearted slaves; You rescue them, for their spirits are surely crushed. (

Psalm 34:18

)
You hear the desires of the afflicted and you encourage them, listening to their cries. You defend these fatherless victims, these oppressed women and children, and You see to it that men no longer terrify them. Please make this promise true for many around our world today, Jesus. You have promised and we ask for it to come to pass. (

Psalm 10:17-18

)
Lord, please stand at the right hand of the needy one and save her life from those who condemn her (

Psalm 109:31

)
Father, the slave is an object of scorn to her accusers, when they see her they wag their heads. Help her, O LORD our God! Save her according to Your steadfast love! Let everyone know that this is Your hand, and You alone have rescued her soul (

Psalm 109: 25-27

)
God, please rescue these souls from the cutting words of the strong, and rescue them from the clutches of the powerful traffickers who enslave and exploit them. At last these women and children will have hope, though they are poor, and the snapping jaws of the wicked will be shut by Your hand (

Job 5:15-16

)
Lord, please remember Your word of hope to us. The comfort for the afflicted slave is that Your promise brings life. Please bring life to the lifeless and hope to the hopeless. (

Psalm 119:49-50

)
God, these women and children have been objects of cursing among their captors in the nations, but You will save them, and they will be a blessing. Help each one, Father, not to be afraid, and make their hands strong. (

Zechariah 8:13

)
Jesus, because of Your blood covenant with us, You will release the prisoners of human trafficking from their hopeless cells. We call on Your promise to call them home, and make them hope-filled freed people. Lord, we call on Your promise of declaration of a double-bonus. We plead with you to return everything that was lost and restore it twice-over. (

Zechariah 9:12

)
Oh God, enough is enough. Have mercy on these slaves, LORD, have mercy. For they have had their fill of contempt. They have had more than their fill of the scoffing of the proud and the contempt of the arrogant. We ask You for deliverance, O God. (

Psalm 123:3-4

)
Lord, You have not despised or abhorred the affliction of the afflicted, and You will not hide Your face from her. Rather, You have heard and will hear when she cries to You. Hear and save, O God. (

Psalm 22:24

)
On behalf of the exploited and enslaved I pray, Lord: Though she is surrounded by troubles, You will protect her from the anger of her enemies. You reach out Your hand, and the power of Your right hand saves her. We ask for You to save her today, O God. Today. (

Psalm 138:7

)
For traffickers, sex-buyers, and oppressors:
The breath of the ruthless is like a storm driving against a wall, and like the heat of the desert. But You, O Lord, You silence the uproar of foreigners, and as the heat is reduced by the shadow of a cloud, so the song of the ruthless is stilled. (

Isaiah 25:5

)
Lord, You are good, a stronghold in the day of trouble; You know those who take refuge in You. But with an overflowing flood You will make a complete end of the adversaries and will pursue Your enemies into darkness. Though they are at full strength and many, they will be cut down and pass away. Though You have afflicted us, You will afflict us no more, and Lord, please break the oppressor's yoke off the slaves, and burst their bonds apart. (

Nahum 1:7-8, 12-13

)
The ruthless will vanish, the mockers will disappear, and all who have an eye for evil will be cut down; those who with a word make a victim out to be guilty, who ensnare the defender in court and with false testimony deprive the innocent of justice. (

Isaiah 29:20-21

) Please wipe these evildoers off the face of the earth; Lord, make them disappear and cut them down for the way they have exploited the innocent and helpless, the hopeless and the vulnerable.
We trust in You always, LORD, for You are the Eternal Rock. Please humble the proud and bring down the arrogant city (trafficking rings and criminal strongholds). Bring them down to the dust. Please allow the poor and oppressed to trample them underfoot, and the needy to walk over them. Lord, in distress we searched for You. We continue to pray under the burden of Your discipline. Rescue us from this evil, Father. (

Isaiah 26:4-6, 16

)
Your Name, Jesus, is the hope of all the world. Yes, even these. (

Matthew 12:21

)
For the at-risk poor and vulnerable:
You, O God, our God, You deal on behalf of them for Your Name's sake. Because Your steadfast love is good, deliver them. They are poor and needy, and their hearts are stricken within them. (

Psalm 109:21-22

)
Oh Jesus, we call on Your promise today: "Because the poor are plundered, because the needy groan, I will now arise. I will place her in the safety for which she longs." (

Psalm 12:5

)
Jesus - do You see how darkness covers the earth, and how thick darkness is over so many people? As the Father rises upon You, and as His glory appears over You, we will see Your light, Savior. Nations will come to Your light, and kings to the brightness of Your dawn. (

Isaiah 60:2-3

)
God, we are blessed and happy when we show loving favor to the poor. Please show us what this looks like today. (

Proverbs 14:21b

)
For the investigators and detectives on the front lines of rescue:
God, please help these brave freedom-fighters not to fear. Remind them that You have redeemed them and called them by name. They are Yours. When they pass through the waters You will be with them. When they pass through the rivers, they will not sweep over their heads. When they walk through the fire of danger, they will not be scorched and the flames will not burn them. You, the Lord - please be with them. You are the the Holy One of Israel. You are their Savior. (

Isaiah 43:1-3a

)
For those who pray and fight to free the oppressed, the lights will turn on, and their lives will turn around at once. Lord, may Your righteousness through them pave their way. You, O God of glory, will secure their passage. When we pray, You will answer. Please answer. When these brave abolitionists call out for help, we trust You to say, "Here I AM." (

Isaiah 58:8-9

)
For those who fight for abolition:
God, teach those who follow Your Son that the kind of fast You're after is to break the chains of injustice, get rid of exploitation in every workplace, free the oppressed, and cancel debts. You're interested in seeing us share our food with the hungry and invite the homeless poor into our homes, as well as empowering us to put clothes on the shivering ill-clad, even as we continue to serve our own families. (

Isaiah 58:6-7

)
Though some boast in chariots and some in horses (some in fancy cars and others in sprawling mansions), we who seek freedom for the slaves will boast in the name of You, Oh Lord Jesus. When we are victorious and set captives free, we will give You all of the glory, Father. (

Psalm 20:7

)
Lord, it is time for You to act, for every law has been broken here. (

Psalm 119:126

) Give us Your backing, Spirit. We know no change can come save by You.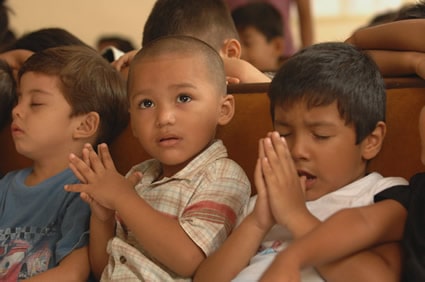 For the recovery and restoration of rescued victims/freed slaves:
She has waited patiently for You, LORD; You have inclined to her and heard her cry. You drew her up from the pit of destruction, out of the miry bog, and You will set her feet upon a rock, making her steps secure. (

Psalm 40:1-2

)
You say to the rescued as you hold their hands, "Have no fear, I will help you." Lord, please open their ears to hear Your comforting words. (

Isaiah 41:13

)
Lord Your Word is perfect to revive the soul. Would You minister to these survivors through Your perfect Law. (

Psalm 19:7

)
Jesus, please give Your spirit of wisdom and revelation to these precious lives in recovery homes all around the world, so that they may know You better. Please open the eyes of their hearts and enlighten them so they will know the hope to which You have called them, and the riches of Your glorious inheritance in the saints, and we plead for You to give them Your incomparably great power, for us and for them and for everyone who believes. (

Ephesians 1:17-19a

)
Lord, we ask that You protect those coming out of horror and exploitation, and that when they seek to dwell in Your shelter, Most High, that You will give them rest in Your shadow. You are indeed the refuge and fortress for these souls in recovery and healing, Lord, and they can trust in You. Because they choose to receive Your love and love You in trusting return, Lord, please protect them as they acknowledge Your Great Name. (

Psalm 91:1-2, 14

)
Spirit, would You keep them in perfect peace all who trust in You, and all whose thoughts are fixed on You. (

Isaiah 26:3

)
As these hearts cry out to You for restoration and healing, as they lift their eyes to You, O God, enthroned in heaven; as they keep looking to You, LORD, our God for Your mercy, just as servants keep their eyes on their master, and as slave girls watch their mistress for the slightest - would You answer from heaven with healing on Your wings. (

Psalm 123:1-2, Malachi 4:2

)
For us all:
I lift my eyes up to the mountains - where does my help come from? My help comes from You, O LORD. You are the maker of heaven and earth. You will not let my foot slip, You who watch over me will not rest; neither will You slumber or sleep. (

Psalm 121:1-4

)
Jesus, You show us these things so that we may have peace. We realize that in this world we will have trouble. Today we choose to take heart! You have indeed overcome the world. (

John 16:33

)
Oh, Father - You have delivered us from such deadly peril, and You will deliver us. On You we have set our hope that You will continue to deliver us, as we pray. In the end, many will give thanks on our behalf for the gracious favor You will grant us in the answer to many who are praying today. (

2 Corinthians 1:10-11

)
We cry aloud to You, O God, and You hear us. In the days of trouble we seek You. We seek You even again today. In the night our hands are outstretched without wearying. Our souls refuse to be comforted until the slaves are freed and restored. When we remember their pain and Your will, we moan and our spirits faint. (

Psalm 77:1-3

)
I remember Your deeds, Lord, and Your wonders. When I ponder Your work and mighty deeds I remember that Your way is holy and what you do is good. Your ways are great and there is no god like you who is great. We recall that You are the God who works wonders; You have made known Your might among the peoples. With Your arm You redeem people. You will redeem Your children. (

Psalm 77:11-15

)
Alright - I realize that was a long post. Honestly, it's been over a year in the making. When I find a passage that speaks to my soul about freedom I write it down in my special journal, and so many of the pages have been filled with these verses and prayers. I gave you less than half of what I've recorded so far. God's Word is brimming, overflowing, bursting with His promises, just waiting for us to agree in prayer. What I'm hoping is that you will begin wherever you are, and then move a little closer to your prayer closet. Spend a few extra minutes at the altar. Press in a little deeper into His presence as you cry out. There is more of Him to be had today.
If you care about freeing slaves around the world, then pray God's promises for their rescue and restoration. Take some of the above and begin your own intercession list. Set aside some time during your day, your week, your life to really pray. Get loud and rowdy on behalf of imprisoned souls, their rescuers, and even their captors. If God gets a hold of a trafficker or a sex-buyer and brings him to his knees, who knows what change could be brought by that one? When a survivor gives surrenders her life to the Lordship of Jesus, healing and restoration from evil are more than possible - they are guaranteed.
Let this post be a resource for your prayers, a diving board for your plunge into intercession. For those who know Christ, for those who follow Him - prayer is the simplest thing we have and also the most powerful. Why wouldn't we press in? Why would we hold back?
In the context of awe-inspiring adoration and affection, heart-breaking confession and contrition, and breathtaking gratitude and praise, we then cry out to God to meet our deepest needs. We share the desires of our souls, not because we're trying to give him information, but because we trust in his provision. In all of this, we realize that the discipline of prayer is designed by God for our delight and pleasure. - David Platt (Follow Me)
You can do this. We can do this. Together we fight. We begin, continue, and finish with intercessory prayer. Only in this way can we glorify Him in the victorious freedom that is coming. Above all, we can trust Him. And that is why we ask Him.

And please, don't be shy - please add your prayers here in the comments below. Together we fight, and freedom wins!